No results were found for the filter!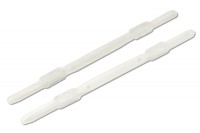 Plastic paper fasteners, transparent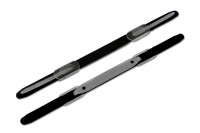 Plastic paper fasteners, black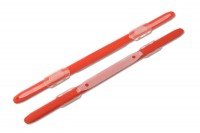 Plastic paper fasteners, red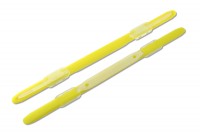 Plastic paper fasteners, yellow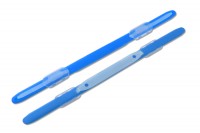 Plastic paper fasteners, blue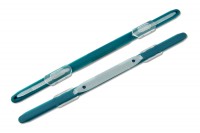 Plastic paper fasteners, green
Filing mechanisms from Moog & Langenscheidt fulfil the essential task when working with punched paper; filing. Our filing mechanisms are all manufactured and assembled in-house. Naturally in "made in Germany" - top quality that stands out. Our standard filing mechanisms are available in white and black. They are equipped with a self-adhesive base plate, a filing tab and a cover strip. Available in a narrow and a wider version. The narrow version is more filigree and only 16 mm wide, while the wider version has a width of 20 mm. Both versions of filing tabs serve the same purpose and offer the best grip. This is where your taste and the intended use are decisive. The usual task of these filing mechanisms is the filing of perforated papers in offer folders, prospectuses, image brochures, price lists, contract folders, catalogues, quick folders and the like. Actually everywhere where perforated paper is used. With our filing mechanisms, not only can you file your documents and records securely and firmly, you have them permanently in order and can always access them in a targeted manner. The self-adhesive filing mechanisms with high-quality permanent double-sided adhesive tape are simply stuck into your binder or folder and you can file your documents. The filing mechanisms are ready for use in a few seconds and can be used for your purposes. Alternatively, you can also use the filing mechanisms simply as filing strips without sticking them in. Our filing mechanisms are also available with a prefabricated filing mechanism. This allows you to push the filing mechanism's tabs through the back of your binder and then file the entire stapled document neatly in a folder. This is a great advantage for archiving different projects or customer data in a cleanly separated and easily removable way. Thanks to the high-quality double-sided adhesive tape, the filing mechanism holds securely in place. Even if a large number of pages are filed, this poses no challenge for the filing mechanism. The adhesive on the back has enormous adhesive power. No matter whether bright white or dark black filing mechanisms are used. Thanks to the neutral colours, they fit for every application and on every surface. To further enhance the appearance of your folder, a closure strip in the appropriate colour can be added. This is simply pushed onto the existing cover strip. This creates a clean finish.